Receiving Your iPad for Fall 2021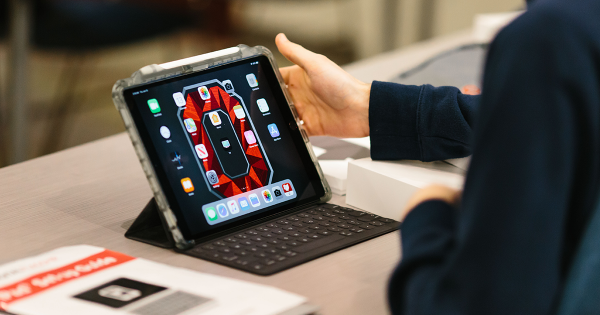 This page includes information on what Digital Flagship technology kit distributions will look like for a variety of groups. Select an option below to find out how you will receive your iPad Air 4, Apple Pencil, Smart Keyboard and protective case. 
If you are an undergraduate student eligible for a technology kit, check your BuckeyeMail inbox often for updates on iPad distribution and any steps you need to take. Eligible transfer students can follow these directions as well. 
Columbus Campus Students Regional Students Distance Education (Online) Students
All distribution details are subject to change in alignment with university health and safety policies.
Columbus Campus Students
If you'll be taking in-person courses on the Columbus campus or living in a residence hall on the Columbus campus, you will pick up your technology from St. John Arena in August. Need to pick up your iPad after pickup windows have closed? Email us at digitalflagship@osu.edu.
Here's how the process works: 
Regional Campus and Online Students
If you are attending one of Ohio State's regional campuses or will be taking all of your courses online this fall, your technology kit will be mailed directly to you.  
To receive your kit prior to the start of classes you must: 
Update your mailing address. We cannot ship your device unless you've verified your mailing address. Reminder: this address cannot be a PO Box or a residence hall. If you will be living in a regional campus residence hall, your iPad will arrive prior to move-in at the mailing address you specify. 


Sign your Student Technology Agreement.
Be enrolled in at least one course for the autumn 2021 semester. 
We will send you an email with tracking information once your iPad has shipped, and though you'll be setting up your iPad at your residence, you won't be on your own. Support is just a click, chat or call away!
FAQ
What if I receive an iPad but choose not to attend Ohio State this fall? 
Will there be support for setting up my iPad?
I'm living off-campus but I'll be attending in-person classes on the Columbus campus. How will I get my iPad?
You'll need to pick up your technology from St. John. Arena. Follow the instructions for Columbus campus students outlined above.
What forms of ID are accepted at pickup?
You can use your BuckID or any state-issued photo ID. This can be a driver's license, state ID card or passport. If you don't have your physical BuckID yet, you can use the digital BuckID located in the Ohio State mobile app.
I'm an incoming graduate student. Will I get an iPad kit?
No, Digital Flagship only distributes iPad kits to eligible undergraduate students. 
I'm a new international student taking online courses from outside the United States. Will I get an iPad kit?
Due to customs and content accessibility concerns associated with shipping technology internationally, Digital Flagship will not be able to provide iPad kits to enrolled students living outside the United States. An iPad kit will be held for you and distributed to you when you are able to take in-person classes on Ohio State's campus. If you have access or technology concerns about online learning, please see the information for new students from the Office of International Affairs.
Don't See Your Question Here? 
Please keep a close eye on your email for more information about how you'll receive your iPad. You can also learn more about iPad eligibility, signing your technology agreement and getting tech support on our website. You can find information online about the steps Ohio State is taking to keep our campus community safe and healthy.